When it comes to Christmas, there's one thing we can probably all agree on: one of the best parts is the food.
Whether you're bringing a platter to a lunch with your friends or cooking up a big feast for the family, it's a good time to try out some of the delicious ingredients from our ING Dreamstarters, who aim to create a positive social or environmental impact. Not only will you impress with your cooking prowess, you'll also be contributing to a great cause. Some of the mouth-watering products on offer are:
To give you some inspiration, we pulled in help from our guest chefs Darren Robertson and Magdalena Roze, who have whipped up some awesome holiday dishes using some very special ingredients found in our ING Dreamstarter store. Check them out below and have a crack at making them yourself!
Festive cinnamon & honey knots
by Magdalena Roze
There's nothing better than waking up to freshly baked sweets. Impress the family with this delicious Christmas morning treat.
Makes: 8
Ingredients:
55g caster sugar
1 x 7g sachet dried yeast
250ml warm water
3 egg yolks plus 2 eggs
180g butter, softened
1/2 tsp ground nutmeg
1 tsp vanilla extract
650g plain flour
1 cup cherries, stems on
Filling:
80g butter, softened
80g Amber Drop Ginger Honey
1Tbs ground cinnamon
Glaze:
2 Tbs Amber Drop plain honey
Ginger Honey Butter: 40g butter, softened, 40g Amber Drop Ginger Honey
2 Tbs chopped walnuts
Method:
Combine the sugar, yeast and water in a large bowl, cover and leave to stand somewhere warm for about 10 minutes or until it's frothy. Then add the egg yolks, one of the eggs, butter, vanilla and nutmeg and mix until well combined.
Mix in the flour until it forms a dough. Knead the dough on a lightly floured surface for about 10 minutes until it's shiny and shows good elasticity. Mould it into a round shape, place in a large greased bowl, cover, and leave it to stand somewhere warm for about 2 hours or until it has doubled in size.
For the filling, whip the butter and Amber Drop Ginger Honey until it forms a smooth paste. Have a taste, it's delicious!
Grease and line a round baking tray with baking paper. To make the knots, divide the dough into 8 equal sized balls. It's worth using a scale for this. On a lightly floured surface, roll out each ball into a rectangle with the longer side closest towards you, brush with the filling, and then roll into a log starting with the longer side. Shape into a knot, or for extra gorgeous detail, cut the dough lengthways down the middle, twist the two pieces around each other and then tuck the ends in to form a knot. Don't worry if it doesn't look perfect. If you're doing this for the first time, it's worth watching a quick YouTube video to get the hang of it!
Place 7 of the knots into your baking tray with about 1-2cm between them, arranging them so there is one in the middle and six around it, like a flower. Put the extra knot in a separate little tray as a tester. I like to do this when baking so I can check when they're ready and cooked. Now whisk your remaining egg and brush it over the knots to give them some shine. Leave in a warm place for around 30 minutes to prove again and preheat the oven to 180 degrees.
When the knots are proved, fill in any gaps with the cherries, using around half of them. Place the tray in the oven and bake for around an hour. Check them halfway and if they're golden brown, cover them with foil. In the last 15 minutes, I like to take out my tester to check and see how it's going.
When ready, remove the tray from the oven and brush the top of the knots with Amber Drop plain honey. This will give them a stunning shine. Scatter over with remaining fresh cherries. To serve mix together the butter, Amber Drop ginger honey and walnuts and place in a small dish. Enjoy!
Roasted pumpkin, with Warndu Native Thyme Oil, crème fraiche and Warndu Aussie Dukkah
By Darren Robertson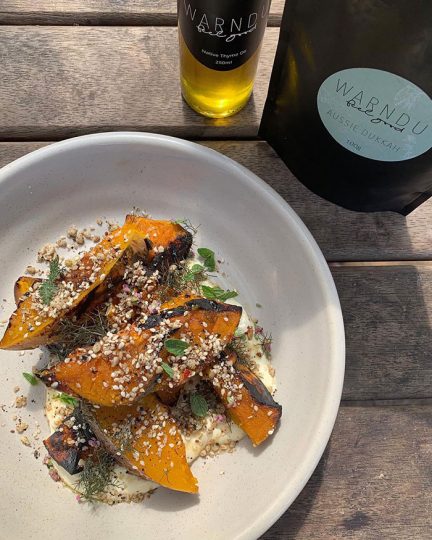 Made from locally sourced ingredients, this dish is a perfect holiday party snack.
Ingredients:
1 small pumpkin
1 tbls Warndu Native Thyme Oil
Salt and pepper
To serve:
3 tbs crème fraiche
1 tsp Warndu Native Thyme Oil and a few drops for garnish
2 tbs honey
Squeeze of lemon
2 tbls Warndu Aussie Dukkah
1 small handful of garden herbs
Method:
Cut the pumpkin in half, season with a little Warndu Native Thyme Oil and salt. Roast at 185deg for approximately 40 minutes or until golden onto, soft and cooked throughout.
To serve, cut the roasted pumpkin into wedges. Mix the crème fraiche and Warndu Native Thyme Oil in a bowl and then spoon onto a serving plate.
Place the cut roasted pumpkin over the top, and drizzle with the honey and lemon Juice. Finally, garnish with the Warndu Aussie Dukkah and garden herbs.
The information is current as at publication. Any advice on this website does not take into account your objectives, financial situation or needs and you should consider whether it is appropriate for you. Deposit products, savings products, credit card and home loan products are issued by ING, a business name of ING Bank (Australia) Limited ABN 24 000 893 292, AFSL and Australian Credit Licence 229823. ING Living Super (which is part of the ING Superannuation Fund ABN 13 355 603 448) is issued by Diversa Trustees Limited ABN 49 006 421 638, AFSL 235153 RSE L0000635. The insurance cover offered by ING Living Super is provided by Metlife Insurance Limited ABN 75 004 274 882, AFSL 238096. ING Insurance is issued by Auto & General Insurance Company Limited (AGIC) ABN 42 111 586 353 AFSL Licence No 285571 as insurer. It is distributed by Auto & General Services Pty Ltd (AGS) ABN 61 003 617 909 AFSL 241411 and by ING as an Authorised Representative AR 1247634 of AGS. All applications for credit are subject to ING's credit approval criteria, and fees and charges apply. You should consider the relevant Product Disclosure Statement, Terms and Conditions, Fees and Limits Schedule, Financial Services Guide, Key Facts Sheet and Credit Guide available at ing.com.au when deciding whether to acquire, or to continue to hold, a product. Before interacting with us via our social media platforms, please take a minute to familiarise yourself with our Social Media User Terms https://www.ing.com.au/pdf/Social_Media_User_Terms.pdf.